Opportunity Details
Provide Your Neighbors with a Holiday Meal (Group Service)
"Our residents are really missing out on traditional holiday experiences due to the pandemic. Not everyone is going to get a good meal this holiday season." – Trinica S., Resident Services Manager at Waterloo Terrace
Are you looking for a meaningful way to serve others and meet basic needs? Holiday Supper Clubs are a seasonal opportunity to provide packaged meals to residents at Foundation Communities' apartments who will benefit from the nutritional and emotional support of a meal.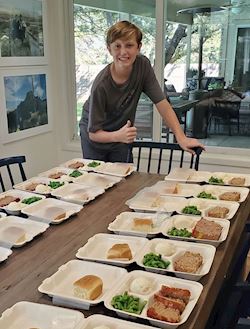 Current Need: We are seeking groups to provide holiday meals at our studio apartment communities all over Austin. See a listing of our current holiday meal needs here, which includes information on location, dates available, and number of meals requested. Availability is subject to change; please contact our staff for updates.
"Holiday meals provide a sense of community and connection for our residents who cannot travel or may not have family to be with." - Chris L., Resident Services Manager at Capital Studios
Volunteer Expectations:
Groups are asked to commit to providing a one-time holiday meal for one of our communities. Group may choose to serve throughout the year on an on-going basis. Monthly, Bi-Monthly, and Quarterly options available.
Volunteer groups will provide all items needed to safely prepare meals offsite and deliver them to the selected community by appointment.
Due to current social distancing rules at Foundation Communities, all meals need to be delivered individually packaged (e.g. one meal per bag or box) so our staff can easily distribute to residents door to door.
Foundation Communities will provide a phone orientation to the group contact(s), safe food handling guidelines, and menu suggestions.
When social distancing measures are not in place, Supper Clubs are a community meal served by the volunteer group directly to residents. We hope to resume this format in the future as health guidelines allow. At this time we will maintain the delivery format at least through the end of 2021.
"Thoughtful meals mean so much to our communities! Many of our residents feel appreciated and cared for when they receive a good, fresh meal." - Kenya L., Resident Services Manager at Skyline Terrace
Age Minimum (with Adult): 5+, Minimum Age:5+
Please wait...
Log in or Register
In order to register for this opportunity you must log in to an existing account or register to create a new account.
Signup with team
This link allows you to participate in this opportunity with a team. When you click on the link you will have the option to:
Choose an existing team you're already a member or captain of, or
Create a new team to sign up.
Signup Questions
Please respond to the following questions in order to signup for this opportunity:
Please wait...
E-mail