Veterans & Military Families
Age Minimum (with Adult): 18+, Minimum Age:18+
Caseworker for Military Families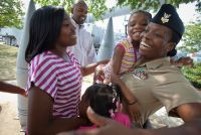 Do you have a passion for helping our military personnel? Do you have quality customer service skills and look for ways to improve the lives of other people? Are you comfortable talking to clients on the phone or in-person?
If you said yes to these questions then our Hero Care Regional Caseworker Critical Community Services position might be the right volunteer position for you. This role helps ensure military families' needs are met when faced with an urgent need. Below is a description of the volunteer position and skills needed to fulfill this role. Please complete click here to create an American Red Cross volunteer application.
Volunteer Role Description:
Maintain strict confidentiality of any case notes, names and other personal information
Understand and apply the Service to Armed Forces (SAF) policies, procedures and protocols related to Red Cross client services consistently and correctly
Support the critical community services which can include an intake interview to assess client needs and providing appropriate service to clients including referrals to other agencies; and the follow up process to include making follow-up calls to military members and/or families to determine if their needs are met, providing other follow-up actions needed for complete and timely client service
Acquire a working knowledge of local, state and federal resources aiding military members, families and veterans
Maintain professionalism and conduct as stated in Red Cross policy
Required Training: All Red Cross trainings are free
Please wait...
Log in or Register
In order to register for this opportunity you must log in to an existing account or register to create a new account.
Signup with team
This link allows you to participate in this opportunity with a team. When you click on the link you will have the option to:
Choose an existing team you're already a member or captain of, or
Create a new team to sign up.
Signup Questions
Please respond to the following questions in order to signup for this opportunity:
Please wait...
E-mail